Some say it's better to give than to receive…well, sometimes it's pretty awesome to receive, too!
Now you can receive new blog posts and/or the newsletter I may or may not send regularly…all without lifting a finger!!!
Simply enter your email address in the box below and click the "Get it" button.
To protect your from unscrupulous people signing you up without your permission, you will receive an email to confirm your follow.   Make sure you click the "Yes, subscribe me to this list" button in that email.  It will look like this: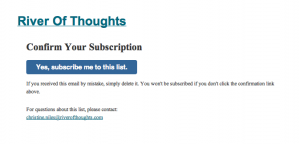 I will solemnly place my hand on a stack of Bibles and promise that I will not EVER share your email address with ANYONE or use it for ANYTHING but delivering new posts or special content from this blog to you automagically.
On the days that I post, you should receive your email between 7-9AM Eastern time.  If i'm late, your email will be delivered the following day.  That's incentive for me to be on time, right??
And every email you receive will give you the option to Unsubscribe if you decide that you've had enough of me.  Always your choice…and I don't even get a notification that you have left me, so no hard feelings either!
Thanks for following!
-Christine