Sundi Jo is a writer, speaker, and small business owner. She is the author of the free eBook, Step Away from that Diet, sharing tips from her 145 lb. weight loss. You can easily find her writing at the local coffee shop in a pair of jeans and flip-flops. Find Sundi Jo on Facebook or Twitter (@sundijo).
Peer pressure is at an all time high these days.
I can't prove it, but I feel it in my bones. Despite losing 145 pounds, I still fight it every day.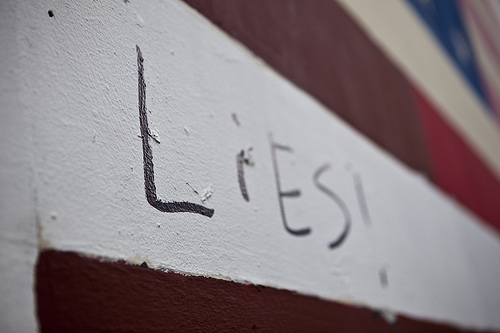 Turn the TV on and you'll see sex everywhere. Skinny chicks strut through every commercial. If they're not skinny, then they're selling a weight loss program.
There is a new diet peering around every corner.
"Drink this and lose that."
"Take this pill and you're life will change forever."
"Eat bread and you may die."
(Okay, I might have slightly exaggerated on that last one, but you get the point.)
The world strives for perfection. We're supposed to do the same, right?
We're missing the key ingredient to believing the truth: being in line with the One who created us.
You are what you think
Dr. Rita Hancock, author of the life-changing book, Radical Well-being: A biblical guide to overcoming pain, illness, and addictions, says,
"Thinking you're fat eventually makes you become fat. Your actions affect your attitudes, and your attitudes affect your actions. Watch what you think because it will affect what you do."
There is so much truth to this statement it's worth reading again.
If you believe you're fat, then you will eventually be fat.
This saddens my heart. I think of all the young women and men under so much pressure to fit inside a perfect world that how they view themselves is transformed by what strangers on the TV tell them.
You must know who you truly are
When I spent a year at a discipleship program for women, my mentor would often require us to stand in front of the mirror and repeat out loud who we were in Christ.
I felt like an idiot.
Picture this for a second: I was standing in front a mirror saying things like,
I am God's child.
I have been chosen by God and adopted as his child.
I have been redeemed and forgiven of all my sins.
I am free from condemnation.
But after I took the focus off myself and stopped thinking about what others would say if they saw me, the truth really started to sink in.
The more I said it, the more I believed it.
Give it a shot. Stand in front of the mirror and tell yourself who you are in Christ.
Who cares what other people think. Just do it. It's freeing, truly.
You are accepted where you are
Don't take this statement the wrong way. If you are significantly overweight, that's not okay. God wants better for you.
Regardless of your decisions, however, the God that created you and knows the exact numbers of hairs on your head (even the gray ones) loves you right where you are – in the midst of your brokenness.
Because of that, he wants to love you through your current situation. Ask him to show you how to move forward without the shame and condemnation that comes with the lies of this world.
Remind yourself again who you truly are, not who you believe you are.
This moment you're in right now is the time to move forward. Not yesterday, not tomorrow, but right now.
Every new breath is a second chance. Will you take the chance?
Where can you start believing the truth instead of the world? Leave a comment…
*Photo credit: tq2cute (Creative Commons)
Never miss another post - Follow by Email