On a steamy August night, a scared little girl in a purple sweater stepped through the door and changed our lives.
In a dusty Ukrainian steel-town, another compassionate little girl in hand-me-down clothes offered me berries and wrapped her arm around me as I cried.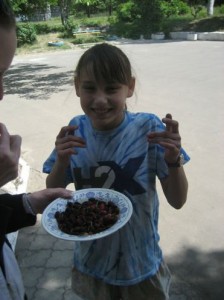 These girls had nothing.  
No ipods or cell phones or TiVos or laptops.
No clothes of their own.
No home.
No family.
How could we not help them?
My comfortable life has come face to face with need and loss and emptiness. I can't go back to life the way it was before. I'm wrecked.
We set aside our plans for travel and convertibles and gadgets and fun, and replaced them with barbies and pink camouflage and hair straighteners and schoolbooks.
These girls have wrecked our lives in the best way we could imagine.
But there are 153 million more like them.
Abused. Neglected. Abandoned. Starving.
Forgotten.
And they need our help.
We are all busy. We all have too much on our plates. We're all overextended. We're all on a budget.
But even the busiest of us can change the life of a child with just a few clicks and a few dollars.
On Saturday, September 8, True Vine, the adoption and orphan care ministry of Pathway Community Church is sponsoring a Walk-A-Thon to support adoptive families and to aid the fatherless at home and around the world. True Vine offers matching grants for adopting families, offers a post-adoption support group that's open to the community, and last spring, shared over $3,000 for shoes, craft supplies, playground, and farming equipment for an orphanage in India.
Will you join with me to make a difference for the fatherless around the world?
Click the Donate Now button below or in my sidebar to the right to partner with us
Share this with your tribe and encourage them to get involved in their own communities and around the world.
Never miss another post - Follow by Email