"I want to write a book"
I've heard you say it.  I've said it.
We've written chapters in our heads at the grocery store.  We have files on our hard drives.  We have notes on characters and plot points or chapter outlines written on napkins in the "book pile" somewhere safe in our house.
And for most of us, that's as far as we get.
We Dream
We dream of someday becoming a writer.  When all the other obligations of our lives suddenly melt away.  When we win the lottery.  When we retire.
We act like writing is something to be done when there's nothing else to do.
But what if we just did it?
What if we spent 30 minutes a day putting words down in order?  What if we actually called ourselves writers?
I have a crystal ball.  I can guarantee one thing:  If you don't start writing, your story will not get told.
It Goes Beyond Writing
There's more to writing than just pushing keys on a computer in a certain special order.  There's revising, and editing, and polishing.   And then there's the question of finding readers–building a platform–and it's pretty important.
All that seemed a real mystery to me a few months ago.
But I'm finding out that it's not really a huge secret.  Furthermore, there are people out there who are doing it who actually care about sharing what they know with the rest of us.
Jeff Goins is one of those people.
Jeff played around with "wanting to write" for years.  Then about a year ago, he changed his approach.  He scrapped his blog of four years, and started over.  He got intentional about what he was doing.
Within a few months, his traffic skyrocketed.  He was named one of the ten best writing blogs of 2011.  He got a book deal with a real publisher without pitching it.  They came to him.
All while still working a day job and starting a family.
He did it because he chose to do it.
I can do that.
You can do that too.
How?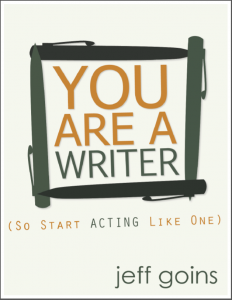 Over the past year, Jeff has built his blog up to thousands of daily readers, published magazine articles, released multiple eBooks, and finished the manuscript for a book that will be published this fall.
As he did all this, Jeff compiled the lessons he's learned, and he's sharing them in his newest eBook:  You Are A Writer (so start acting like one)
You Are A Writer is a concise blend of creative inspiration, encouragement, and practical tips and advice.  From giving you permission to "be" a writer to providing sample emails to help you network without feeling like a sleaze, Jeff shares his steps and mistakes.
He gives us a roadmap.
Buy it, read it, and listen to him.
(Update:  youareawriter.com is live and packages are available for purchase now!)
Writing is magic
Y'all, I think this is the magic of writing.  We each have a million unique stories to tell…stories that no one else can share.  And there's room in the world for all of us.
Reading isn't going away.  It's changing, sure.  But as I learn more and practice my craft and learn from people like Jeff, I'm finding out that those changes are good.  In fact, they're great.  It's easier than ever to get our words in front of people who care to read them.  Like you.
What about my book?
Heh…which one?
But really, ever since I blogged about Masha's adoption, you have been telling me I should write a book about it.
So I'll put it out there.  I'm sort of participating in Jon Acuff's Finish Year 2012.  One of my Finish Year goals is to put that story into book form.
The manuscript is due (to me) at the end of the year.
Step one:
I am a writer.
You can be too.
If you had infinite time and resources, what kind of book would you write?  Leave a comment…
Disclosure of Material Connection: I received this book free from the author. I was not required to write a positive review. The opinions I have expressed are my own. I am disclosing this in accordance with the Federal Trade Commission's 16 CFR, Part 255 : "Guides Concerning the Use of Endorsements and Testimonials in Advertising."
Never miss another post - Follow by Email