Today, I'm honored to share a guest post from my not-so-little brother, Adam Royse.  Adam has spent his life catching his dreams, earning a captain's license at 18, his private pilot license at 25, and networking his way into dream-related jobs.  He's joining me at next month's Quitter Conference…where I hope he'll figure out the value of Twitter.
(update: follow him here!)

Proud of you, Jakie! – Love, Sadie
'Tis the political season. Again.
Last week, Mitt Romney and his merry tribe visited my tiny coastal hamlet of St. Augustine, Florida.
We are an eclectic bunch here encompassing all types; artists and hippies, bums and drunks, professionals and a good collection of wanabees.
I observed the crowd on my way across the square to the post office. Plain as day, the Obama folks were berating the Romney supporters about some minor issue or another and the Romney folks were handing it back in spades.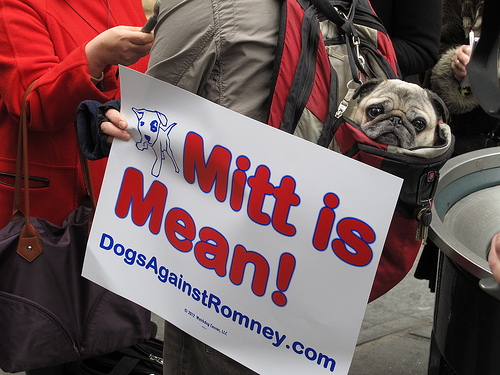 It struck me that here, in politics, and in most facets of our modern life, the spirit of compromise, civility and mutual respect have gone the way of the slide rule.
From this politico example, to business applications, school, even the line at Starbucks- we just seem to have lost it.
Seemingly gone are the days of "agreeing to disagree" and accepting anothers interpretation of something. Lines in the sand are drawn and minds close. We tend to compartmentalize, make policies and procedures for even the simplest of tasks. We are now so quick to forward our own agenda and perhaps feed an ego, even if it is on the back of another. Generally it is not with malice, but merely a by product of our modern culture.
What changed? Hard to say, maybe the constant onslaught of news, reality television, cell phones..blame it on anything, but perhaps it is just us.
Stop, slow down, recall a simpler time. Listen to the guy at work that might have something to say. Just because you have a better title, doesn't mean the other person is inferior. We love to use foolish sayings like "think outside of the box", but how about checking no boxes at all and just think? Talk to those surrounding you, listen to what they have to say and deviate from the norm.
Educate yourself, think for yourself, and form your own opinion, regardless of subject- but then realize that is what it is- YOUR opinion. Maybe the guy in line at Starbucks has a differing one. Chat him up, learn why he thinks that way. By engaging others and learning their point of view we may well modify or affirm our own. But if nothing else we've offered the forum.
Returning from the post office, the political crowd was still at it, shaking their signs and shouting at each other, seemingly on specialized topics that have little to do with the big picture. It never ends. A closed mind and a big mouth can be a dangerous combination. Let's be civil, tolerant and kind to one another. Try it-you may be surprised what you get in return.
Really…Just try it.  And tell us how it went in the comments…
*Photo Credit: Andrew Dallos (Creative Commons)
**Editor's Note:  The photo above does not indicate political support for or against either party or candidate.  For the record, I'm not really fond of either candidate, nor am I in full agreement with the platforms of either party. They both have some strengths, they both have a lot of weaknesses.  As for the picture, I just thought a pug with a political position was preposterous.  -Christine
Never miss another post - Follow by Email