A Gift For You
The Secret No One Tells You: a manifesto for the discouraged is a short eBook that might encourage you when you hit one of those days when you just plain can't keep going.
Get your FREE copy (and updates) by entering your email address here: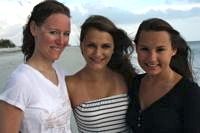 I am a writer, a project manager, and a corporate refugee with a heart for orphans around the world. My two daughters were adopted from Ukraine at ages 12 and 14.
I post two to three times a week about orphan issues, chasing dreams, and making a difference in the world, and on Fridays we have some fun with some fiction that's in progress.
Archives