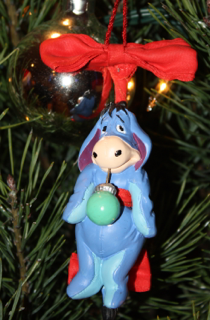 Every year since we met (with a couple exceptions…sometimes I suck at keeping up traditions), Mark and I have given each other an ornament.  Often, the ornament reflects a theme of the year, or a season in our lives.  Sometimes, it's just cute or silly or pretty.
The first Christmas after we were married, I slogged my way through a bout of major depression.  And I mean Major.  I boycotted the holidays.  I didn't want a tree.  Mark and his sister both took a day off work, got a tree and decorated the house while I was at work.
I think we owned about six ornaments and one string of lights.
He gave me an Eeyore ornament that year.  And every year, as I carefully suspend Eeyore from a sturdy branch, I remember how amazing Mark is.
Since the girls have been part of our family, we've expanded this to include giving each of them an ornament too.
The tree is getting full, telling our story.  That's they way it should be.
What favorite ornament hangs on your tree?  Leave a comment!