I'm a control freak.
As a project manager, I used to joke that I got paid to be a control freak. But when it comes to relationships, my control-freak-ed-ness is…not a gift.
Holding on
I suspect that most parents struggle with control issues from time to time. With wanting their kids to make certain choices, with wanting to protect them from painful mistakes.
And when your kids come from hard places, when they've lived through trauma and seen things no kid should see…well, Mama Bear gets even more protective. Raawr.
Seriously, though. As they grow into young adults, I want to equip them to make their own choices, but I also feel like they have experiences lurking in their past covering them with a veil of lies. Past betrayals that could derail them. Hidden pain that might make hard choices harder. Too hard.
In an effort to protect and guide them, I sometimes go too far.
I try to make my choices theirs.
Letting go
Tyler Ward preached on this a few weeks ago, and really slammed me against a wall.
In the time since, I have talked with several friends struggling with a similar desire to protect and guide and speak into the lives of people they love–people who are faced with or making choices that, well, aren't the ones we want for them.
There were lots of great takeaways in Tyler's sermon; it's really worth a full watch. (if you're a more "on the go" person, you can download the audio and listen, but you'll miss a pretty awesomely hilarious visual aid. trust me)
But if you only have time to skim, don't miss this part:
Think about the people you're struggling to guide or lead or influence…or control? Those people you're praying for?
God loves them even more than you do.
Yeah. You heard that right.
You love them. You care about them. You lie awake at night worrying about them.
They could be your kids, or your parents, or your best friend's boyfriend's cousin's uncle. Whoever it is, you love and care. Maybe even more than you care about what happens to yourself.
But God cares even more. God loves them even more.
Even more.
So why do you think you can do a better job taking care of them than God can?
Freedom
Seriously, folks, this is freeing me.
It's not easy. I need reminders throughout the day.
So much so that I hung this prayer up on a post-it note above my bathroom sink. I see it often enough to remind me and reinforce, but not so often that I tune it out.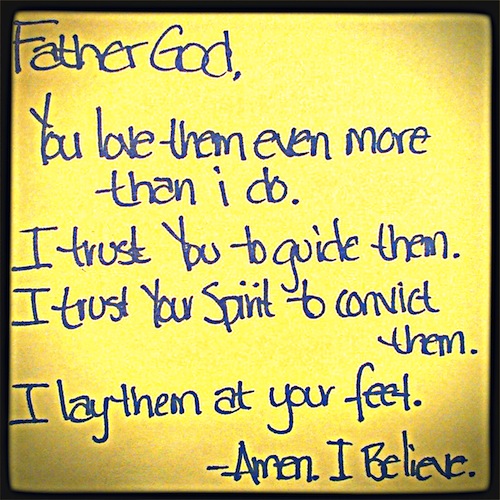 Trust me, I have to say that "I believe" part a few times. I'm still reminding myself. I'm still choosing to believe.
I'm choosing to trust that God loves them even more than I do.
What do you need to lay down today? Leave a comment…
pps: This really is worth the time to watch…Or to download: trust-god-with-others.mp3  Really.
pps. This doesn't mean we don't/shouldn't/can't ask for God to intervene in specific ways. It also doesn't mean that things will always turn out the way we want them to. It's just helping me wrap my brain and my heart around a horrible cycle of trying to control other people's actions.
Never miss another post - Follow by Email