Hairspray and perfume hang in our hallway like the Black Smoke from Lost.
The girls scurry around…"Where's my bobby pin?  Not the green one!  The blue one!"
The first day of school.
It's go time.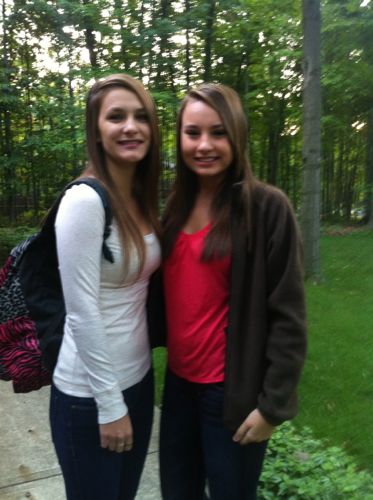 One year ago, I shared a few thoughts about the first day of school for the girls:
Today, they embark on a new season of classes and homework, of football games, of friends and opportunities and choices. They seek independence, yet the glue is still drying between us as a family.

For kids raised outside their family of origin, or in a family with significant trauma or dysfunction, it's harder to grow the bonds of trust and to learn to rely on others. It's harder for them to understand the balance of love and authority. It's harder to grasp the trust that lies within teamwork.
Last May, I shared a few thoughts about the last day of school and my prayer for the summer:
As both girls grow older and earn the responsibility to make more of their own decisions, that they would invest their energy in avoiding drama and in building relationships both with people they can serve and influence as well as a few great girls that can influence them and help them continue to love God and grow into strong, secure women.
The time has come to revisit and cast a new vision for a new year.
Even though it's been another full year, our glue is still wet around the edges.  We've had a tough summer, and there are still more changes and missteps in our future…that's just part of life.
So today, as we start another school year, my prayer is both of my girls will follow God's guidance as they make choices, that they'll find friends that will bring out the best in them, and that they will focus on letting God make something beautiful from the hard times in their pasts.
What does this coming year have in store for you?  Leave a comment…
Never miss another post - Follow by Email