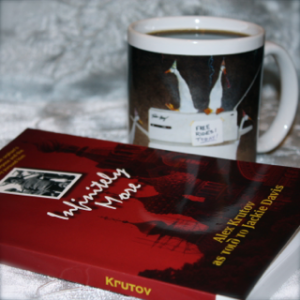 Sunday was my one-month anniversary at RiverOfThoughts.com and Monday was my 100th post related to Adoption.
To celebrate these milestones, and to wrap up National Adoption Month, I want to give away my favorite moment of peace:  a good book and a frilly coffee!
This means I'm giving away a copy of Infinitely More by Alex Krutov, along with a Starbucks Gift Card!!! 
Enter yourself in the drawing by following three simple steps between now and next Tuesday, 6 December:
1. Find your favorite post on my blog site.  How?
Visit the Adoption Story or Portfolio pages for links to some key moments
Use the Search feature
Browse the Archives
Click on a subject in the Tag Cloud
2. Share that post with people you know.  How?
Tweet it
Share it on Facebook
Email it to someone (or many people)
Look for the super-easy buttons to do all three of these things at the bottom of every post!
3. Comment Here!  (this is the important part!!!!!)
Tell me which post was your favorite
Include your real email address when you comment
(your email will NOT be available to anyone but me, and I will ONLY use it to notify you if you win)
Explain how adoption has touched your life, whether through your own adoption journey, through friends, or not even at all
I'll announce the winner in next Thursday's post, and I'll contact the winner privately by email to get a mailing address……
Never miss another post - Follow by Email
Tags: adoption, giveaway, missions, orphan care, russia