Exactly five years ago, we were in Ukraine, three weeks into our five-week adventure for Masha's adoption. For the next few weeks, I'm posting excerpts and a photo or two from each day. Sometimes funny, and sometimes proof of how naive we were, I hope you'll enjoy our little trip down memory lane…
Thursday, 7 June, 2007 – The Night The Lights Went Out In Com.bat
The cries of a thousand warriors filled the air as darkness enveloped their underground lair. OK, so it was more like about 40 teenage boys hollering when the power went out at Com.bat, the internet café we've been frequenting. The first version is so much more poetic, dontcha think?
Gone were the sounds of fans from 45 computers; once the initial moments of shock wore off, the boys began to quietly congregate around the front desk. Our laptop screens and provided the only illumination; and we got the heck outta Dodge before chaos erupted.
We had been talking about sending the girls around the orphanage with the camera, and today it happened. The girls took the camera upstairs and got some photos of their rooms. Their group occupies two large rooms on the second floor of the orphanage. The girls posed in their beds, and we learned that Amina and Masha are bunkmates…Amina on top and Masha on the bottom bunk! They also have a study area with desks, a living room area with a pet bird, and of course Masha posed with her "best friend," the big TV! We again were impressed with the quality of conditions at this orphanage, and we are thankful to the Director and her staff for taking such good care of all the children there.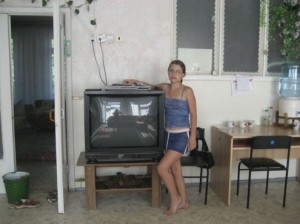 The only snag in this plan was that we were planning to take Masha to LUNCH at 2:00. We didn't get out of the Notary until after 3:00, and then we needed to wait there for Sasha. Needless to say, we didn't get food until about 5:30 (Masha ate at the orphanage). It's times like this that remind us that this is NOT a vacation. We are here to accomplish an objective, and we are not in control of any of the activities. We have to trust our facilitation team, know that they are as motivated as us to get us out of here, and follow their lead. And I'm sure you can imagine how tough that is for both of us!
How do you cope when you are hungry and don't have control?  Leave a comment…
Never miss another post - Follow by Email