Exactly five years ago, we were in Ukraine, just a week into our five-week adventure for Masha's adoption.  For the next few weeks, I'm posting excerpts and a photo or two from each day.  Sometimes funny, and sometimes proof of how naive we were, I hope you'll enjoy our little trip down memory lane…
Thursday, 24 May 2007 - Ukrainian Mullet
…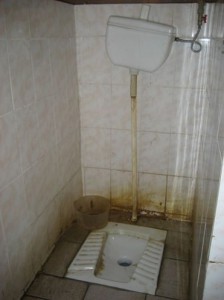 We spent a little time [this afternoon] on the playground, but Masha was getting into a bit of a funk. Sveta came over and announced that Masha needed to use the bathroom, and offered to take her. Mark followed along, anxious for the Ukrainian Public Restroom Experience. I think I'm glad I missed it, if the women's room was as nasty as the men's….Yuk.
…
After [an afternoon of parks and ice cream], we asked our driver to run back to our apartment to pick up the laptop…I had seen a little WiFi symbol on a poster at Papa Karlo's cafeteria yesterday and wanted to check it out to see if it was for real… It was nice to be connected for the price of a beer and some pistachio nuts.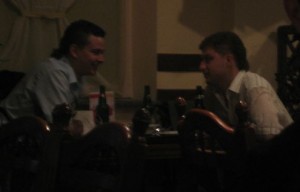 But the piece de resistance was our discovery of not one, but two Ukrainian Mullets. Photo is not so good, but it's the best I could get while pretending to take a picture of Mark!
What are your thoughts on public toilets?  Leave a comment…
Never miss another post - Follow by Email