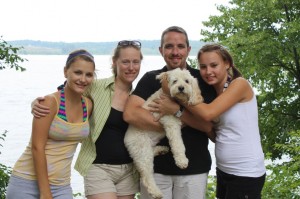 I am Christine.
I am a writer who occasionally still manages projects.  I am a corporate refugee project manager who raises two crazy beautiful Ukrainian daughters.  I am a mom who tries to be the hands and feet of Jesus.  I am a Christian who adores my husband.  I am a wife who loves to write.
I post two to three times a week about adoption and orphan topics and making a difference in the world, with a little bit of fiction thrown in for fun. Enjoy new posts delivered right to your mailbox by entering your email address in the Subscribe field to the right.
*****
For three weeks in August 2006, we hosted a bright, beautiful 12-year-old girl from Ukraine in our home.  Masha quickly became a part of our family, and we spent  the next nine months working to get approval from US and Ukraine to adopt her and bring her back home to Fort Wayne, Indiana.  In 2009, we did it again with Lena!
To learn more about how we decided to adopt, read about Hosting Masha.
Learn about our Five Weeks in Ukraine in the summer of 2007 to adopt Masha.
Learn about our Three Weeks Plus One Week in Ukraine in December, 2009 to adopt Lena.
Learn about our Family Mission Trip in June, 2011 to Dulce Refugio orphanage in Aguascalientes, Mexico.
Learn about the why there are 153 million orphans in the world, and what we can do to change it.
*****
I love to hear feedback about how I can serve you better.  You can contact me: